Oddgeir Krag bought his first boat back in1989, and gave both the boat and the company the Sara Karin name that has stayed with them ever since. The original Sara Karin has been operated as a trawler, and in 2008 they added the Svebåen.
'I have been running Svebåen since we bought it in 2008,' said Erik-Andre Krag. 'Now someone else is skippering the boat and he is preparing to buy the boat.'
The Krag family took the decision to make in investment in the future, replacing both of these now elderly boats with a single purpose-built vessel offering significantly more flexibility, including the option of freezing at sea. They went to Marin Design for the layout of the new Sara Karin, built with aluminium superstructure on a steel hull, which has been built at the Poltramp yard in Poland and delivered at the end of June.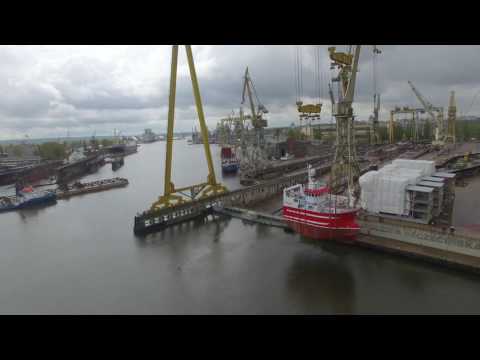 The 19.80 metre overall, 9 metre beam Sara Karin steamed from the Poltramp yard in Świnoujście to Hirtshals for the final fitting out of the Intech International catch handling equipment, placing a great deal of functionality in a relatively small space. The freezing installation is from MMC.
There's a lot packed into this 20 metre hull, including accommodation for a crew of seven and two fishing methods with winches for both seine netting and trawling supplied by Lofoten Hydraulikk. The extended hydraulic system includes a pair of combination trawl/seine rope winches, the anchor winch and capstan, a pair of deck cranes and a high-pressure washer. Sara Karin is rigged for twin rigging for shrimp, opening the gear with a pair of Thyborøn doors. The netting for the boat's seines and trawl gear is supplied by local company Lenangen Fiskeriservice.
Built to operate as a seine netter for part of the year to target mainly cod and haddock, Sara Karin's handling area is fitted out to produce H&G roundfish frozen in blocks with a 13 tonne/day throughput capacity, while cooked shrimp go through an IQF process before going to the 90 tonne capacity refrigerated fishroom.
According to Leif Carøe Andersen at Intech International, Sara Karin has been fitted out with a manual gutting table, a Baader 444 heading machine, fish bleeding tanks, fish washers and two vertical freezer for both fish and block-frozen industrial shrimp.
'The shrimp line has a receiving bin for total catch, a 600mm by-catch separator, a control conveyor, two Roenings RS24 grader for raw shrimp, as well as a Connie 500 cooker with a capacity of 800kg/hour, a Connie pre-cooler and a Connie 500 cooler,' he said. 'Cooked shrimps go through a Roenings RS24 grader and via a control conveyor to the 4 tonne IQF freezer for single frozen shrimps, and the scales and packaging in 5kg cartons. This is the first vessel of this size with an IQF freezer on board. This is going to a very effective fishing vessel, where the owner places the focus on high quality, high capacity and very good conditions for the crew,' he commented.
Sara Karin's main engine is a 940hp Mitsubishi, turning a 2500mm controllable pitch propeller inside a nozzle via a Heimdal gearbox, and there are two 190kW John Deere auxiliaries packed into the boat's engine room.
'We're mainly seine netting for cod and haddock in the winter season, starting in January and into April-May. After that we switch to shrimp from May to the end of the year. We fish from Lenangen in Lyngen, and also off Andenes and Finmark – and we're planning to trawl for shrimp off Svalbard if we can,' Erik-Andre Krag said.
Photos are courtesy of Sara Karin – follow them on Facebook